Scottish Rugby International to Brookes UK
Graham Ellis is Principal of our school but those of you new to Brookes, but not realise he played professional rugby for Scotland. You can hear him talk all about his sporting career and steps into education on the Suffolk Pod Show, hosted by Susanna Hornby.
Listed on the Pod Talk website here or listen to the media player below.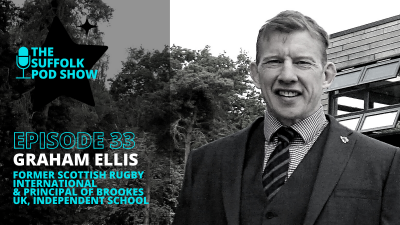 From the Pod Talk website:
In this podcast episode Graham talks about his love of rugby from a young boy. He attended one of Scotland's most prestigious independent schools, Hawick, where he jokes that you were given two choices on arrival – horses or rugby! He took rugby!  He was taught by the late great Bill McClaren, one's of Scotland's finest international rugby commentators, and Graham tell us about Bill's huge influence on his life – which he carried through with him to playing for Scotland himself, and as a PE teacher right to this day.
Graham talks about playing with some of Scotland's most famous rugby players, including Scott Hastings, Gary Armstrong and the formidable Brewster Brothers. Graham describes himself as a reasonable player – but claims his success was due to hard work and dedication to the game. It paid off! He played in all matches for Scotland during the 1997 Five Nations. Graham talks about what it was like to play for his country in some of those very well known stadiums.
---